Sub Fantastic Underwater View, Columbia Sailor unfit, Sub Collision Europe's Worst disaster 501 Swedes dead , Experience Sub Living on the Great Lakes, FAQ Vote USA, Goodbye Narwhal, Lockheed Martin builds Additional Tridents, Report on Virginia Boats,
Date:12 Oct 2020
The Swedish Congress website
Join 31 Other Nation's Submariners for fun and travel; once this virus is gone.
Consider becoming a member of the ISA-USA; you will benefit in many ways.
Be part of a 50-year tradition of international friendships of submarine sailors. Check out www.submariners.org for the history of the International Association
Travel to foreign countries to participate in conventions that usually include thirty-one states in attendance.
Establish friendships with submariners from other nations.
Contribute your Submarine history and experience in our World Wide email blast.
We Cheerfully accept members that have not served but are interested in worldwide submarine activities
Lifetime membership only $50.00.
ISA/USA Membership Application. All new members of ISA/USA receive a Membership card, ISA/USA Patch, and new larger Vest Pin. On our weblink below and print an application:
https://nebula.wsimg.com/a06e11df9dcf28c2ae0ec803786d400d?AccessKeyId=4BBB4A7A11A45D3E3BF9&disposition=0&alloworigin=1
Send completed form and membership fee to:
John Bud Cunnally E.T.C. (S.S.) Ret. U.S.N. – President
International Submariners Association of the U.S.A. (ISA/USA)
4704 Coppola Drive
Mount Dora, Fl  32757-8069
Curt Haggard sends this fantastic photo.
Investigation Finds U.S.S. Columbia Shooter Was Likely Unfit to Serve on Submarines
By: Sam LaGrone
September 29, 2020 7:02 PM
·          
U.S.S. Columbia (SSN-771) was undocked on July 16, 2020, from Dry Dock #2 at the shipyard in Pearl Harbor, Hawaii. U.S. Navy Photo
The sailor who killed two contractors and them himself at a repair yard in Hawaii had shown signs of "long-developing problems that in aggregate should have raised concerns about his mental condition," which would have likely disqualified him for submarine service, according to an investigation into the December 4 incident that was released on Tuesday.
Machinist Mate Auxiliary Fireman Gabriel Romero, 22, had struggled with emotional and disciplinary issues while assigned to the Los Angeles-class attack submarine U.S.S. Columbia (SSN-772), according to the command investigation into the shooting at the Dry Dock 2 at the Pearl Harbor Naval Shipyard.
On the day of the shooting, Romero reported for duty at a little after 2:00 p.m. with no signs he was under distress. In the hours before, he had spent time with his girlfriend, worked on getting an apartment, and underwent small arms sustainment training. After relieving the previous sailor from armed security duty, taking his M4 carbine and his M9 pistol, and signing in on the log, Romero told the petty officer in charge, "I'll be right back." Romero then turned and began walking behind three shipyard workers by the dry dock and fired his M4 when he was about 20 feet away. He shot the workers, killing Vincent Kapoi and Roldan Agustin. Romero then took his own life with his sidearm. The investigation determined Romero acted alone in the shooting that lasted only seconds.
Investigators found warning signs that Romero may not have been fit to serve in the months ahead of the shooting that were not woven together by his leaders. While Columbia was in dry dock, Romero had visited the Navy's embedded mental health program (eMHP) eight times for a variety of issues, including feelings of hostility from other crew members, lack of advancement in the Navy, and worry over a person close to him who was in poor health. In late September, after a string of performance issues, senior enlisted leadership on Columbia arranged for Romero to see the force psychologist to whom Romero was assigned, who diagnosed him with "phase of life problems" and "unspecified problem related to unspecified psychosocial circumstances." Romero was, in turn, referred to a "behavioral health technician, a non-licensed Navy enlisted (E-5) corpsman" that provided counseling on managing Romero's myriad issues.
The results of those visits were not adequately relayed up the chain of command to inform the leadership of Romero's mental health issues, concluded the investigation.
"The investigation team determined that Romero had long-developing problems that in aggregate should have raised concerns about his mental condition, and his maturity, stability, and dependability," reads the report reviewed by USNI News.
"If these risk factors would have been shared among medical providers and the U.S.S. Columbia chain of command before December 4, 2019, the Navy may have interrupted the chain of events that led to this tragedy."
Specifically, the report singles out that leadership did not renew Romero's screening to carry out the armed security detail due to his change in health, a vaguely defined requirement in Navy regulations.
"He was not rescreened on that basis despite risk factors known to the Navy including his mental health; his concern over his [redacted] health issues; two single motor vehicle accidents (motorcycle and car) within a year; general isolation from his shipmates; delinquent qualifications; repeated counseling; a disciplinary review board (D.R.B.); a failure to advance to E-4; and an executive officer inquiry (X.O.I.) the day before the shooting," reads the report.
"If shipmates would have reported these indicators to supervisors, the chain of command may have aggregated them with other known risk factors to recognize that circumstances warranted his rescreening for armed watchstanding."
In addition to the generalized mental issues, "Romero showed signs of an undiagnosed mental disorder that likely would have disqualified him from submarine duty," reads the investigation.
In a separate section of the report, a clinician that reviewed Romero's case after an emergency room visit reported that he likely an undiagnosed case of attention deficit disorder. Having a diagnosed case of A.D.D. is disqualifying to serve in submarines, USNI News understands.
The investigation results are prompting the Navy medical community and the Pacific submarine force to reevaluate how they conduct mental health screenings for submariners.
"As a result of the investigation, SUBPAC is conducting a comprehensive review of the eMPH program and how to better communicate medical treatment while respecting patient privacy, " U.S. Pacific Fleet spokesman Cmdr. Myers Vasquez told USNI News in a statement.
Lessons from the investigation in Hawaii are being combined with a separate investigation into the shooting at Naval Air Station Pensacola, Fla., which occurred days later when a Saudi flight student with ties to terror groups in the Middle East killed three sailors. The results are set to inform the Pentagon's insider threat evaluation program.
Those results and improvements to the Pentagon's insider threat posture are set to be issued later this year.
M.S. Estonia: Europe's worst shipping disaster 'caused by a Baltic submarine collision.'
By Michael Daventry  •  last updated: 29/09/2020 - 17:05
Sweden's King Carl V.X.I. Gustaf pictured in 2014 at a memorial to the M.S. Estonia disaster. 501 Swedes were among those who drowned when the ship sank in 1994   -   Copyright  Claudio Bresciani/A.P.
·         
·         
·         
·         
·          
·         
·         
·         
·         
A collision with a submarine may have caused the 1994 sinking of an Estonian cruise ship in which 852 people drowned, a documentary team has suggested.
The program's makers said a remote-controlled probe they sent to explore the wreckage of the M.S. Estonia had spotted a previously unknown hole in the hull that is four meters high and 1.2 meters wide at its widest point.
Their findings were streamed this week in the Discovery documentary "Estonia: The Find That Changes Everything," Experts said a massive external force could have only caused the rupture.
Only 137 of the 989 people on board the ferry survived when it sank in international waters off Finland early on September 28, 1994. It remains Europe's worst peacetime shipping disaster.
The foreign ministers of Estonia, Finland, and Sweden said in a statement that they would jointly assess the new information presented by the documentary.
But Margus Krum, who led the Estonian government committee investigating the disaster, said a collision with a submarine was "the most likely cause."
He added that the newly-discovered hole was unlikely to have been caused by an underwater rock or cliff that the passenger and car ferry struck as it sank to the seabed.
"The section where the damage was found has never touched the seabed," Kurm told Estonian state broadcaster ETV.
"The position that [M.S.] Estonia is in post-accident was documented during dives conducted in 1994."
The original inquiry into the M.S. Estonia disaster concluded that it was caused by the ship's bow door being wrenched open and allowing water to flood into the car deck.
The ship was en route to Stockholm from Tallinn when it sank. Passengers from 17 countries drowned in the disaster, including 501 Swedes and 285 Estonians.
Many bodies remain unrecovered in the wreck, and exploratory diving was banned at the site under a 1995 agreement signed by the governments of Estonia, Finland, and Sweden.
But the documentary makers are understood to have used a German-flagged vessel to explore the wreck.
Click to view this email in a browser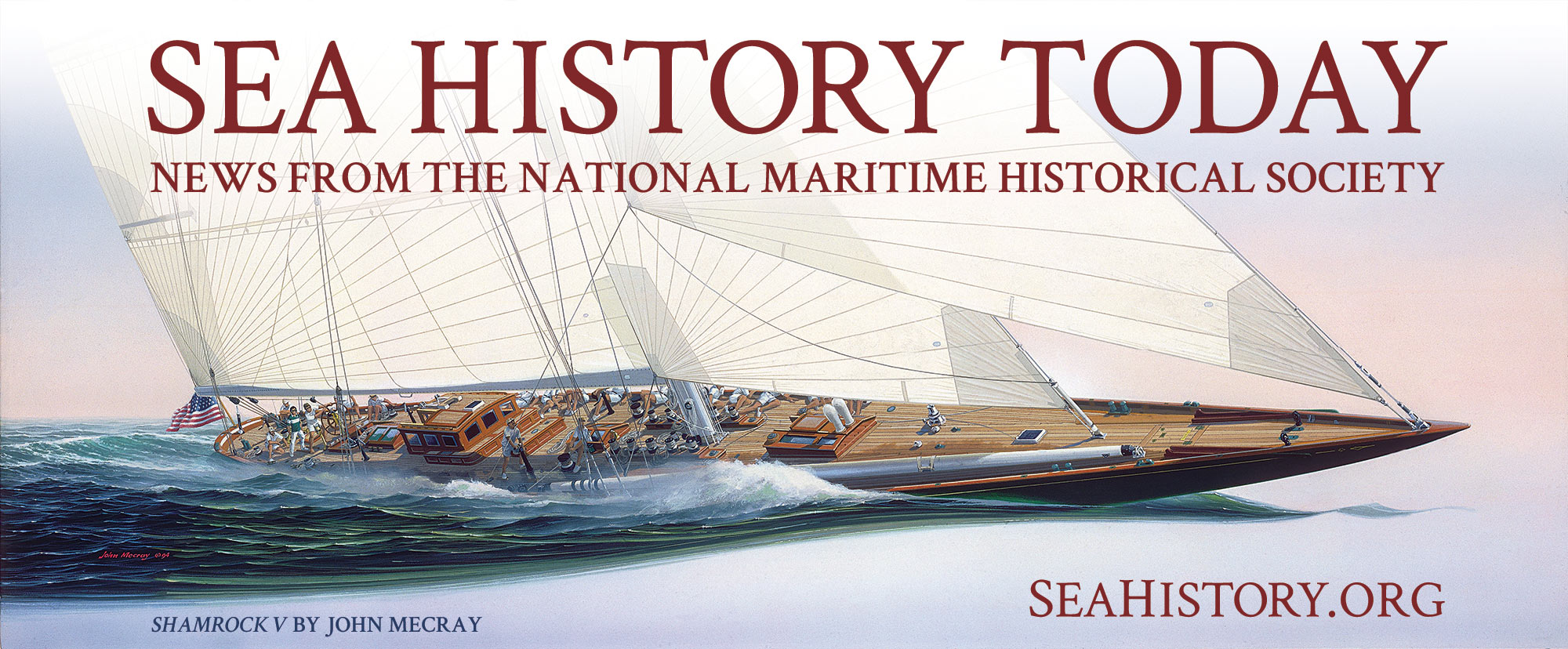 October 1, 2020 — Sub BnB: Rising to the Challenge of the Moment, Museum Creates a Program to Experience a Historic Sub in a New Way
 
When my daughter was in elementary school, her scout troop had the opportunity to take part in a sleepover at a local aquarium. I went along as a chaperone and wondered whether it would be difficult to sleep under the watchful gaze of the fishes. I needn't have worried—young girls don't sleep when there are other girls to chat with! The overnight was a wonderful experience, with a behind-the-scenes tour of the aquarium and that feeling of being a unique visitor when you can wander the exhibits after-hours.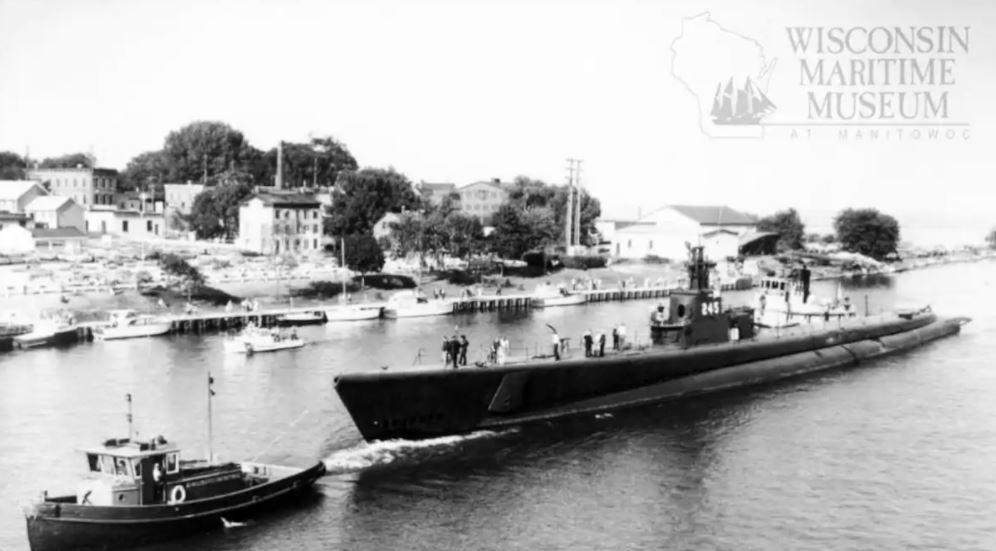 US.S. Cobia was launched in 1943 and made six patrols during World War II.  The submarine was brought to Manitowoc in 1970.  Photo: Wisconsin Maritime Museum.
Many museums offer such excursions; overnight programs—typically targeted at scouts, school classes, and other youth groups—are an excellent way to introduce new generations to their collections and interest them in coming back, as well as supplementing the institutions' coffers The Wisconsin Maritime Museum (WMM) in Manitowoc has such a program, inviting youth groups to spend the night in the museum's WWII-era submarine, Cobia. Over the past 23 years, about 60,000 people—mostly scout groups—have spent the night in the submarine, which has been painstakingly restored. The program was so popular that many groups booked a year or more in advance. But what about grownups who might be interested in spending the night in a WWII sub? Airbnb's emerging prominence has inspired a handful of museums to offer their facilities as the setting for unique overnight stays, and WMM gave some thought to setting up their program.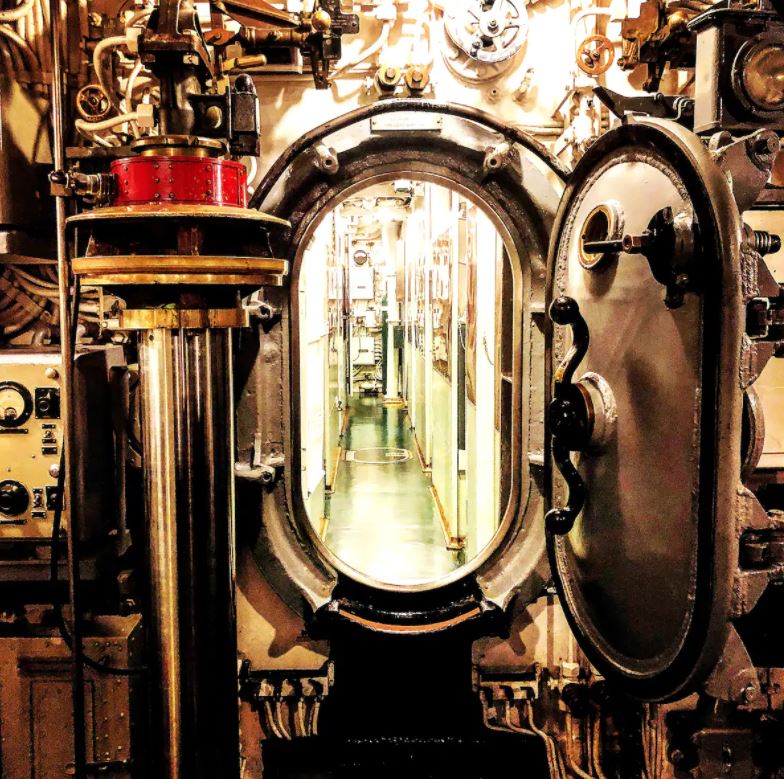 The view through the first of the bulkheads in the U.S.S. Cobia.  Photo: Wisconsin Maritime Museum.
The drastic economic shift in the spring of 2020 changed everything. Like so many other museums, WMM had to temporarily close its doors, and limitations on in-person group activities put an end to youth overnights in Cobia, bringing an estimated shortfall of $100,000 in revenue traditionally generated by them. The museum leadership decided to commit to the Airbnb option, reaching out to museums with established adult overnight-stay programs for their valuable advice. The result is Sub BnB, which launched at the beginning of September and attracted nearly a dozen bookings those first few weeks. Guests are provided with sea bags containing bedding and toiletries and can choose from the 65 bunks located throughout the sub. A dedicated museum staff member is on hand for the duration of the overnight, to answer questions, accompany explorations of the sub, and provide a guided tour of the museum if desired. The vessel has a new HVAC system and air purifiers located throughout, and it is thoroughly cleaned, along with the bedding, between guest stays. A recent guest had nothing but high marks for the experience:
 
" …[W]e were introduced to [the] staff and treated like celebrities. …Shane gave us a first-class personal tour of the facilities and an in-depth tour of the Cobia, including visits to parts of the ship not open to the general public. That evening Abbie drove us to a great restaurant and picked us up with popcorn and snacks in tow for a special movie night just for us in the theatre at the museum. …[The next morning], we had our own private time to go through the fabulous multi-story museum before Abbie once again drove us to the boat dock. Yes, a unique experience that I would highly recommend for a family or a small group. Many fond memories!"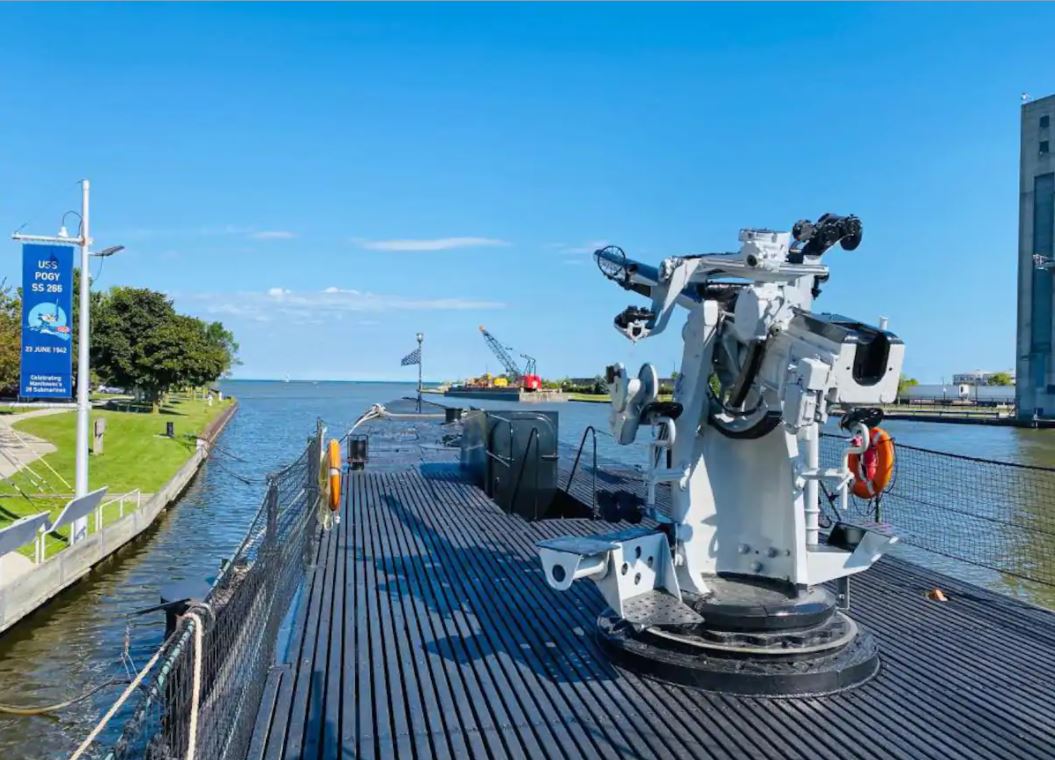 The deck of the U.S.S. Cobia is overlooking Lake Michigan.  Photo: Wisconsin Maritime Museum.
The museum is happy with the new offering as well. Not only does the income from the new program help offset the financial impact of the Coronavirus pandemic, a loss estimated at half of their typical revenue, but it draws new visitors to the museum and strengthens its connection with the greater community. The museum's director of education and programs, Abigail Diaz, put it this way: "For small groups and families, Sub BnB provides a safe and engaging place to experience history firsthand. While our overnight youth program is incredibly popular and successful, it's been fantastic to reach new audiences and create new relationships with Sub BnB." 
Are there similar overnight programs at a maritime museum near you?  Let us know!
 
Sea History Today is written by Shelley Reid, NMHS senior staff writer.  Past issues can be read online by clicking here.
FAQs ABOUT VOTER REGISTRATION IN THE U.S.A.
Is COVID-19 going to impact the election where I live?
Because we don't know how long the outbreak will affect us, it's safe to prepare for the possibility that your election will be affected. Some states, such as Ohio, have postponed their primary elections. While others, such as Florida, chose to continue as planned. Many polling places have changed due to safety concerns and reduced staff and volunteers. As this situation is rapidly evolving, some of these changes are occurring late in the game. Check on the status of your elections.
Does my vote matter?
Yep, it does! Countless elections have been decided by only a few votes. For example, a 2017 Virginia state election was tied, so the winner was selected by drawing names out of a bowl. Literally.
There will be close races all over the country, and at least ten states have senate or gubernatorial (governor) elections "where youth are poised to have a disproportionately high electoral impact in 2020."
One vote matters. *Your* vote matters. And together, our votes have the collective power to decide the future of the country we want to see.
How do I vote by mail?
First step: make sure you're registered to vote. Then, unless you live in a state that automatically emails voters ballots, you must fill out an absentee ballot application. Once you receive your ballot in the mail, cast your vote by mailing it back or, in some cases, dropping it off at a vote center. Make sure to request and return your ballot before the respective deadlines in your state.
Note: Due to COVID-19, many states have temporarily changed their absentee ballot laws. Besides, USPS has delayed timelines for mail, so make sure to request your absentee ballot at least two weeks before the deadline and send in your ballot two weeks before the election. 
Am I registered to vote?
You should always make sure that your address is up-to-date! Use this resource to check if you're registered, need to update your address, and more. Oh! And if you re-register, there's no penalty. Better safe than sorry, right?
I'm not 18, but I will be by Election Day (November 3, 2020). Can I still register to vote?
It depends on your state. In most states, YES. In all but a few states, you can register to vote if you're younger than 18, as long as you'll be 18 by Election Day. In others, you may need to be a certain age to register even if you'll be 18 by Election Day.
In the following states, you can register starting these many days/months before your 18th birthday:
Alaska: 90 days
Georgia: 6 months
Iowa: 6 months
Missouri: 6 months
Texas: 2 months 
If you qualify under these rules, register now -- it just takes 2 minutes! If you're not sure, you can check your state's rules. And if you can't vote this year, you can help your friends get registered.
Some states even let 17-year-olds vote in primary elections if they'll be 18 by the general election -- see if you qualify here.
Can I register to vote without a driver's license?
Yes! You can register to vote using a driver's license number or another non-driver I.D. number (a state I.D. card). Suppose you don't have a driver's license or haven't been issued a non-driver state I.D. card. In that case, states will allow you to register using the last four digits of your social security number (SSN), but you will have to print, sign, and mail in a paper version of the voter registration form to complete the process.
(The only exceptions are in the following states, where you should provide your full SSN: Hawaii, Kentucky, New Mexico, South Carolina, Tennessee, and Virginia.)
How do I vote if I'm at college in a different state?
You can register to vote for your home state or the state where you go to college -- but not both!
If you're registering to vote in the state where you attend college, and you live in a dorm, you must put your physical dorm address on the form, and a P.O. box doesn't count. (There's a separate section on the form for you to include your mailing address, in case that's different from your dorm address.)
If you're registering to vote in your home state, be prepared to travel home to cast your ballot or mail in an absentee ballot. Learn more about early and absentee voting here.
When are my elections?
There are hundreds of local elections in each state. When you register, our friends at Rock The Vote can send you reminders about when elections are coming up in your state or city.
What is voter pre-registration?
In some states, you can pre-register to vote when you are 16 or 17. Then on your 18th birthday, your voter registration will be automatically processed. This is a great way to ensure you don't miss registration deadlines, but be sure to update your pre-registration if your address changes before you turn 18.
Saying goodbye to 'Narwhal,' a submarine whose stealth changed the Navy
Kitsap Sun
A.D.
0:28
BREMERTON — It was nearly the nation's 100th nuclear-powered submarine, whose pioneering Cold War innovations inspired systems still used today among the modern fleet. 
But after a year of dismantling, the Narwhal is officially no more. 
Crews from the Puget Sound Naval Shipyard, experts at the only place in the world that recycles U.S. Navy nuclear submarines, have cut and chopped the former Narwhal into salvageable pieces, a part of roughly 16 million pounds of scrap Kitsap's largest employer produces annually.
But in its prime, the Narwhal was a trendsetter whose prowess for silence under the waves changed the Navy.
"It became what a submarine is supposed to be," said Michael King, a retired submariner who served as a machinist mate aboard the Narwhal in its earliest days. "Completely stealthy, undetectable." 
Just about all that's left is its nuclear reactor compartment, which will float out of Puget Sound and up the Columbia River and to the Department of Energy's Hanford Site, where it will indefinitely reside in a trench with fellow former reactors. It's a far different outcome for a vessel once destined to become a museum on the banks of the Ohio River. 
'One of a kind.' 
The U.S.S. Narwhal — named for a 20-foot-long gray and white arctic whale whose males possess a twisted ivory tusk — was the third such submarine called by that creature. Its predecessors also broke new ground in the earliest days of subs, and SSN-671, as its hull number knew it, continued that tradition. 
The Narwhal contained cutting-edge technologies that gave the Navy the upper hand in the Cold War's underwater theater. Its new natural circulation reactor plant could operate without noisy reactor coolant pumps. A "scoop" system injected seawater into its steam-turned turbines. And a direct drive, or directly-coupled main turbine, eliminated reduction gears, another potential source of noise, King said. 
"It was a one of a kind," King said. 
In 17 deployments over three decades starting in 1969, the Narwhal won numerous medals and commendations for missions still primarily classified. But its stealthiness made it among the most effective weapons in the cat-and-mouse played between Soviet and American subs. As a result, [Somebody] pushed the Narwhal and its crew for prolonged deployments and few breaks.  
"We chased Ivan around the Atlantic," recalled Will Harvey, a storekeeper, helmsman, and even barber onboard Narwhal from 1973 to 1977.  "We were considered the quietest boat in the Navy." 
More: Bremerton-based U.S.S. Seawolf shows up in Norway's far north
Innovations forged on board were copied to submarine classes still among the silent service today, including among the nuclear missile-armed Ohio class, the majority of which are home-ported at Bangor, and the three Seawolf-class submarines, also home in Kitsap and whose covert missions carry on the work of Narwhal a generation ago. 
A well-known but harrowing moment for the Narwhal was in 1989. Tied up at the Charleston Navy Shipyard as Hurricane Hugo approached, Narwhal broke loose from its moorings. The fast-acting crew chose to dive in the Cooper River to ride out the storm, ultimately returning to the surface "without incident," the Associated Press reported. 
Inactivated in Norfolk, Virginia, in 1999 and towed to Puget Sound in 2001, Narwhal was almost preserved as a museum in Newport, Kentucky. But fundraising efforts failed, and the project was scrapped in 2006. It has since bobbed in mooring alpha, a graveyard for submarines awaiting their final dismantling.
Sub 'extremely challenging' to take apart 
This past year, a force of 150 from various trades across the shipyard worked to take Narwhal apart; those used to cutting up submarines have acknowledged the ex-Narwhal, because of its peculiarities and age, was an "extremely challenging" project. Shipyard Capt. Dianna Wolfson said "goodbye" to Narwhal officially in her newsletter in September. 
Steel and other scraps from the vessel will go to companies that bid pennies on the pound for it. They could melt it down, or it could be "reintroduced (into) the manufacturing supply system," according to Dana Thornbury, a spokeswoman for the Defense Logistics Agency, which handles the scrap sales for the shipyard. 
More: America's most secret submarine undocks from Puget Sound Naval Shipyard
There was a time when the Navy debated sinking the subs "in the deep ocean," but defueled reactor compartments started going to Hanford from Puget Sound in 1986, according to the Navy's "Green Book." 
Like the roughly 135 of them that have been shipped to Hanford, the Narwhal's reactor compartment has to be sealed in steel 3/4 of an inch thick on all sides before transport aboard a specially reinforced barge. Only at the Port of Benton, on the bank of the Columbia, will a truck be required to take the reactor compartment the remaining 26 miles to its final resting place. 
The whole process of dismantling takes the better part of a year and, on average, about $27 million, which was the cost of recycling a Los Angeles-class sub. 
All the while, it may be a long time before more of Narwhal's special missions become known to the public. For now, only the sailors and their leaders are aware and, as Capt. William A. Matson, its first skipper, said at the boat's inactivation in 1999, they are "still forbidden to speak of these matters." 
"Let me just say that Narwhal went in harm's way and measured up," he said. 
Josh Farley is a reporter covering the military for the Kitsap Sun. He can be reached at 360-792-9227, josh.farley@kitsapsun.com, or on Twitter at @joshfarley.
Navy asks Lockheed Martin to build additional Trident II D5 submarine-launched ballistic nuclear missiles
The Trident II D5 is the primary U.S. sea-based nuclear ballistic missile deployed aboard U.S. Navy Ohio-class ballistic missile submarines.
October 7, 2020
WASHINGTON – Strategic weapons experts at Lockheed Martin Corp. will build additional UGM-133A Trident II D5 submarine-launched ballistic nuclear missiles and support deployed D5 nuclear weapons under terms of a half-billion-dollar order announced last week.
Officials of the U.S. Navy Strategic Systems Programs (S.S.P.) office in Washington are awarding a $498.4 million contract modification to the Lockheed Martin Space Systems segment in Titusville, Fla., to provide for Trident II (D5) missile production and deployed systems support.
The Trident II D5 is one of the most advanced long-range submarine-launched nuclear missiles in the world. It is the primary U.S. sea-based nuclear ballistic missile and is deployed aboard U.S. Navy Ohio-class ballistic missile submarines.
The U.S. Navy operates 14 of these ballistic missile submarines, each of which can carry as many as 24 Trident II missiles. Although the Trident II is designed to carry as many as 12 multiple independently targetable reentry vehicle (MIRV) warheads, current treaties reduce this number to four or five.
Each Trident II missile has a range of 4,000 to 7,000 miles. The Trident II D5 was first deployed in 1990 and is scheduled to remain in service until 2027.
The Navy started the D5 Life Extension Program in 2002 to replace obsolete components using as many commercial off-the-shelf (COTS) parts as possible to keep costs down and to enhance the missile's capability. Draper Lab is in charge of upgrading the Trident II's guidance system and working on this project since 2005.
The Trident II missile's inertial measurement system receives targeting data from computers aboard the submarine in practice. The inertial measurement unit then transmits signals to the D5 flight-control computer and converts them into steering commands to keep the ballistic missile on target.
The missile's post-boost control system maneuvers the missile in flight to observe stars for the missile's celestial navigation subsystem, which updates the inertial system in flight.
Related: Draper Lab to provide additional guidance systems for Trident submarine-launched ballistic nuclear missiles
Lockheed Martin also integrates the Trident II onto the next-generation ballistic submarine designs of the U.S. and United Kingdom by adapting the Trident II missile and reentry subsystems into the joint missile compartment for the future Columbia-class missile submarine and United Kingdom Dreadnought class missile boats.
The Columbia-class ballistic missile submarine is being designed to replace the Navy's fleet of Ohio-class submarines. Meanwhile, the future United Kingdom Dreadnought submarine will replace the Royal Navy's fleet of Vanguard-class ballistic missile submarines.
The U.S. Navy today operates 18 Ohio-class submarines -- 14 of which carry the Trident nuclear missile. Four Ohio-class subs have been modified to carry conventionally armed long-range cruise missiles.
The Ohio-class submarine has been in commission since 1981, and this class is scheduled to be decommissioned and replaced starting in 2029. The United Kingdom Vanguard-class ballistic missile submarine has been at sea since 1993. The Royal Navy operates four Vanguard-class subs.
On this order, Lockheed Martin will do the work in Cape Canaveral, and Titusville, Fla.; Kings Bay, Ga.; Bangor, Wash.; Sunnyvale, Calif.; Denver; Magna, Utah; Bethesda, Md.; and other U.S. locations, and should be finished by September 2026.
For more information, contact Lockheed Martin Space Systems online at www.lockheedmartin.com, or the Navy Strategic Systems Programs office at www.ssp.navy.mil.
Report on Virginia-class Attack Submarine Program
September 25, 2020 9:41 a.m.
·          
The following is the September 24, 2020, Congressional Research Service report, Navy Virginia (SSN-774) Class Attack Submarine Procurement: Background and Issues for Congress.
From the report
The Navy has been procuring Virginia (SSN-774) class nuclear-powered attack submarines (SSNs) since FY1998. The one Virginia-class boat that the Navy is requesting for procurement in FY2021 would be the 33rd boat in the class. The Navy's FY2020 budget submission had projected that the Navy would request two Virginia-class boats in FY2021.
Virginia-class boats scheduled for procurement in FY2019-FY2023 are being procured under a multiyear procurement (M.Y.P.) contract. Most Virginia-class boats procured in FY2019 and subsequent years are to be built with the Virginia Payload Module (V.P.M.), an additional, 84-foot-long, mid-body section equipped with four large-diameter, vertical launch tubes for storing and launching additional Tomahawk missiles or other payloads.
The Navy's FY2021 budget submission estimates the procurement cost of the Virginia-class boat requested for procurement in FY2021 at $3,539.4 million (i.e., about $3.5 billion). The boat has received $915.7 million in prior-year "regular" advance procurement (A.P.) funding, and $289.0 million in prior-year Economic Order Quantity (E.O.Q.) A.P. funding for components of boats being procured under the FY2019-FY2023 MYP contract. The Navy's proposed FY2021 budget requests the remaining $2,334.7 million needed to complete the boat's estimated procurement cost, as well as $1,473.8 million in "regular" A.P. funding for Virginia-class boats to be procured in future fiscal years and $427.4 million in EOQ AP funding for components of boats being procured under the FY2019-FY2023 MYP contract, bringing the total amount of procurement and A.P. funding requested for the program in FY2021 to $4,235.9 million (i.e., about $4.2 billion), excluding outfitting and post-delivery costs.
The FY2019-FY2023 MYP contract for the Virginia-class program includes a total of nine boats (in annual quantities of 2-2-1-2-2), with an option for adding the 10th boat. The contract allows for the 10th boat to be added in either FY2021 (which would make for a total procurement of two Virginia-class boats in FY2021) or a subsequent year. The Navy's FY2021 unfunded priorities list (U.P.L.) reportedly lists the 10th boat as the Navy's top unfunded priority for FY2021. It states that fully funding this additional boat in FY2021 would require an additional $2.76 billion in funding.
The Navy's force-level goal for SSNs is to achieve and maintain a force of 66 boats. The Navy's SSN force included 50 boats at the end of FY2019. From the mid-2020s through the early 2030s, the number of SSNs is projected to experience a valley or trough, reaching a minimum of 42 boats in FY2027-FY2028. Some observers are concerned that this projected valley could lead to heightened operational strain for the SSN force, and perhaps a period of weakened conventional deterrence against potential adversaries such as China. The projected SSN valley was first identified by C.R.S. in 1995 and discussed in C.R.S. reports and testimony every year since then. The Navy's FY2020 30-year shipbuilding plan projects that, after reaching its projected 42-boat minimum, the SSN force will increase to 66 boats by FY2048.
Issues for Congress regarding the Virginia-class program include the potential impact of the COVID-19 (coronavirus) situation on the execution of U.S. military shipbuilding programs, including the Virginia-class program; whether to provide funding for procuring a second Virginia-class boat in FY2021 (which would be the 10th boat under the M.Y.P. contract); the potential industrial-base challenges of building both Columbia-class boats and Virginia-class attack submarines (SSNs) at the same time; and technical risk in the design for the latest (i.e., Block V) version of the Virginia-class submarine.
Download the Document https://assets.documentcloud.org/documents/7217779/Navy-Virginia-SSN-774-Class-Attack-Submarine.pdf
Thanks, Bud
John Bud Cunnally E.T.C. (S.S.) Ret. U.S.N. – President
International Submariners Association of the U.S.A. (ISA/USA)
4704 Coppola Drive
Mount Dora, Fl  32757-8069
352-729-4097 Home
352-638-1955 Cell